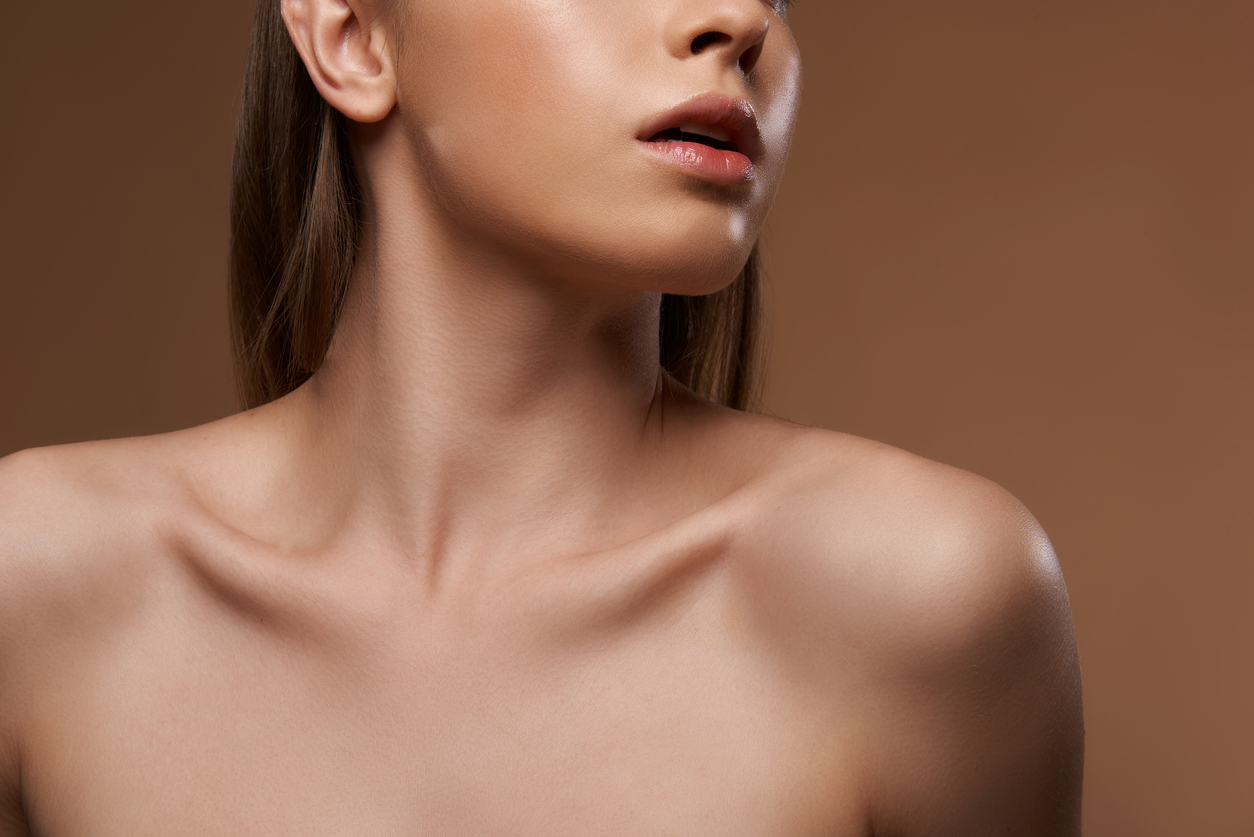 Benefits of a Non-Surgical Neck Lift
For many people, an aging neck with wrinkles and sagging skin tops the complaints shared with skincare experts. Aging skin in the neck causes drooping, including:
Jowls

A double chin

Hollow areas

Banding
But removing loose skin on your neck and under the chin usually requires surgical procedures with significant risks and downtime. More frequently, people who want a youthful look choose non-surgical treatment. Juno Aesthetics is pleased to provide a non-surgical neck lift in Brooklyn & Manhattan to meet your aesthetic needs.
Surgical neck lifts are the gold standard for removing excess skin, tightening loose skin, and reducing neck bands. In 2019, nearly 55,000 people had a surgical neck lift procedure. However, the number of people wanting to change the appearance of their skin without surgery is rising.
Nonsurgical and minimally invasive procedures are not as dramatic as traditional surgical treatments in renewing and refreshing the neckline. That being said, a non-surgical neck lift can:
Help improve skin tone and texture

Reduce the appearance of wrinkles and neck folds

Give the contour of your neck a more youthful appearance
Some other benefits associated with nonsurgical cosmetic treatments versus surgical procedures include:
Quicker recovery time, from just a few hours to a few days

No downtime

Side effects are generally minimal

More cost-effective than surgical options

Shorter procedure

Fewer risks overall since general anesthesia and large incisions aren't required
A non-surgical neck lift in Brooklyn is ideal for you if you are experiencing skin laxity and moderate sagging and want to improve the appearance of your neck but are not ready for a surgical procedure.
Non-surgical neck lifts are customized to your exact needs and aesthetic goals. Your specific treatment plan may include several minimally invasive treatments, from injectables to radiofrequency and laser treatments. Such therapies help restore and rejuvenate your neck, taking years off of your appearance and helping you regain smoother, tighter skin with a more youthful neckline.
During your initial consultation with Dr. Giyaur, she will assess your neck and skin and discuss your aesthetic concerns and goals. Using this information, she will design a customized treatment plan to suit your needs, which may include one or several of the following treatments:
The Lipo-Reduction procedure removes excess fat from the neck and jowls through a tiny opening in the skin. This method involves less risk, is painless, and provides immediately visible results that continue to improve over time.

Hyperdiluted Radiesse injections rejuvenate the neck by smoothing lines and wrinkles while stimulating collagen production. Over time, results become more apparent as the skin naturally rebuilds itself, achieving a tighter, firmer contour.

PDO thread lifting is a minimally-invasive treatment in which Dr. Giyaur inserts permanent, strong sutures into your neck. These sutures lift and tighten skin, improve skin quality, and build natural collagen. You get immediate results and a more youthful, raised sculpted neck and jawline.

Botox is a short, quick procedure that doesn't require any recovery time and achieves smoother skin. Botox can be applied to the neck to minimize or erase wrinkles and lines in the area.

Kybella injections target fat cells with its unique technology that eliminates the double chin and fat in the upper neck area. When Kybella is applied under the chin with a series of injections, the fat cells are smoothed away, and the jawline and neck are more defined and youthful-looking. You'll see results in four to six weeks.
Juno Aesthetics helps people achieve confidence and a better quality of life by assisting them in reaching their aesthetic goals. We want you to feel good about yourself, and a sagging neck can cause you to lose confidence in your appearance.
Juno Aesthetics is owned by double board-certified surgeon Dr. Julia Giyaur, who created a space to help her patients turn back the clock and enhance their natural beauty. We provide the highest standard of technology, expertise, and safety. We are now offering a non-surgical neck lift in Manhattan and Brooklyn to achieve a rejuvenated look to your neck. Contact us today if you're in the Brooklyn area and would like to schedule a consultation.