Aging skin can affect the neck and cause sagging and drooping, including jowls, a double chin, hollow areas, banding, and other concerns. A common solution for the aging neck is a surgical neck lift. However, surgery comes with significant risks and downtime. This is why people who want to achieve a more youthful look often opt for non-surgical treatment. Juno Aesthetics is pleased to provide a non-surgical neck lift in Brooklyn & Manhattan to meet the needs of our patients.
What is a non-surgical neck lift?
While a surgical procedure provides the most dramatic results to renew and refresh the neckline, a non-surgical option can also achieve outstanding results for those who are not ready for surgery.
A non-surgical neck lift in Brooklyn is a treatment that is customized to your exact needs and aesthetic goals. It may include a number of minimally invasive treatments, from injectables to RF and laser treatments. These treatments help restore and rejuvenate your neck, taking years off of your appearance and helping you regain smoother, tighter skin and a more youthful neckline.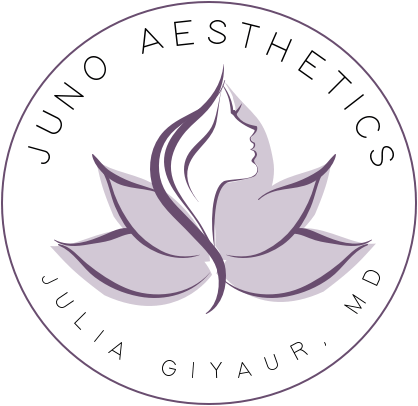 Am I a candidate for a non-surgical neck lift?
A non-surgical neck lift is ideal for patients with mild to moderate skin laxity. More dramatic, severe sagging is not usually ideal for a non-surgical lift. Ideal candidates for a non-surgical neck lift meet the following requirements:
Are generally in good health
Are not pregnant or breastfeeding
Do not smoke
Have realistic goals about what a non-surgical neck lift can achieve
Are at least 21 years old
Have no active rashes or similar skin concerns
Types of treatments available for your non-surgical neck lift
During your initial consultation with Dr. Giyaur, she will examine your neck and skin and discuss your aesthetic concerns and goals. From there, she will design a treatment plan, customized exactly to suit your needs. This treatment plan may include one or several of the following treatments to enhance, smooth and lift the neck area, to achieve the best non-surgical neck lift Manhattan has to offer you.
Lipo-Reduction procedure
This non-surgical, in-office procedure removes excess fat from the neck and jowls through a tiny opening in the skin. This procedure is similar to liposuction but involves less risk, and takes about 40 minutes to complete. Lipo-reduction is painless and provides visible results immediately that continue to improve over time. Expect some bruising and swelling during your recovery period.
Hyperdiluted Radiesse
Hyperdiluted Radiesse is used to rejuvenate the neck. This gel-like filler smoothes lines and wrinkles and also stimulates collagen. In the neck, it's used in hyperdiluted form to smooth and rejuvenate lax, crepey skin. Over time, results are more and more apparent as the skin naturally rebuilds itself, achieving a tighter, firmer contour. 2-3 treatments needed are needed to achieve optimal results. Hyperdiluted Radiesse is a painless lunchtime procedure, with immediately visible results that continue to improve over time, and last for 1-2 years or more.
PDO thread lifting
This minimally-invasive treatment uses permanent, strong sutures that are inserted to lift up and tighten skin, improve skin quality and build natural collagen. Results with PDO threads are immediate, providing a more youthful, lifted, and sculpted neck and jawline. As collagen continues to regenerate the skin and rebuild skin structure, the results improve over time. The procedure is painless and takes about 40 minutes to complete.
Botox
Botox is a short, quick procedure that doesn't require any recovery time, but achieves smoother, younger-looking skin. Botox can be applied to the neck to minimize or erase wrinkles and lines in the area. The results last for about 3-4 months, at which point a repeat treatment can be done.
Kybella
Designed to target and eliminate the double chin and fat in the upper neck, Kybella smooths away fat cells with its unique technology. This injectable treatment mimics a natural substance in the body that is designed to break down and destroy fat cells. When Kybella is applied under the chin with a series of injections, the fat cells in the area are smoothed away and the jawline and neck definition in the area are more defined and youthful-looking.

Kybella treatments take about 30 minutes, and the recovery period of swelling and redness lasts for several days. You'll see results in 4 to 6 weeks.
Non-surgical neck lift benefits
A non-surgical neck lift in Brooklyn provides many positive results for patients who are experiencing skin laxity and moderate sagging and would like to improve the appearance of their neck but are not ready for a surgical procedure.
Short recovery time, from a few hours to a few days
No downtime
Minimal side effects
More cost-effective than surgery
Short procedure
Achieves a rejuvenated, more youthful neck contour without the need for surgery
Why choose Juno Aesthetics for my non-surgical neck lift?
Juno Aesthetics helps people achieve confidence and a better quality of life by helping them achieve their aesthetic goals. We want you to be able to feel good about yourself. A sagging neck can cause you to look older than you are and cause you to lose confidence in your appearance. Juno Aesthetics is owned by double board-certified surgeon Dr. Julia Giyaur, who created a space to help her patients turn back the clock and enhance their natural beauty. We provide the highest standard of technology, expertise, and safety. And now offering a non-surgical neck lift in Manhattan and Brooklyn to achieve a rejuventated look to your neck once again. If you're in the Brooklyn area and would like to schedule a consultation, please contact us today.