Liquid Facelift in Brooklyn
According to Dr. Julia Giyaur, founder of Juno Medi-Spa in Brooklyn, what many people see in the mirror as they age doesn't accurately reflect how they feel inside. This is one of the reasons that brings many of our patients to Juno. Changes in the facial structures due to aging are inevitable, and can be exacerbated by smoking, certain diseases, genetics, and menopause. This is why Dr. Giyaur offers the "liquid facelift" for her patients who want to improve these signs of age, but don't necessarily want to undergo surgery.
What can a liquid facelift do?
A liquid facelift in Brooklyn uses a variety of dermal fillers and neurotoxins to elevate, lift, add volume to, and plump up facial structures to rejuvenate the face and deliver a more youthful appearance — with no surgery and no downtime. Because this treatment uses only cosmetic injectables, it's also known as a non surgical facelift.
Volumize the cheek area, temples, and lips
Smooth wrinkles, eye bags and hollows, nasolabial folds, marionette lines, jowls, lip lines, and facial contour
Lift cheeks and mid-face to reduce folds and jowling in the lower face, brows, and mouth corners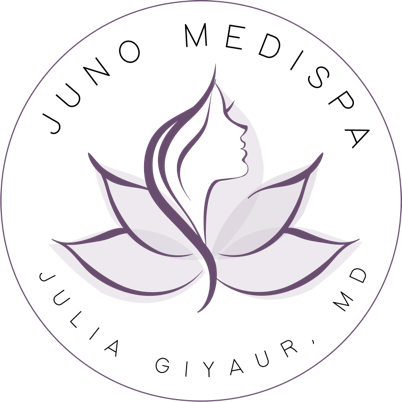 What changes in the face as we age?
In modern times, there's a choice that we all make as we age. Some decide to fight against the process of aging, and some decide to "let it be". As minimally invasive, non-surgical, and natural methods and techniques become more and more available to us, many people are choosing to fight their age-related appearance changes. It's really not about vanity or being liked by others, it's about feeling better about ourselves. It's about getting more pleasure out of life and feeling more confident and secure.
Aging happens to all of us, but looking and feeling old doesn't have to. Here are some changes that occur as we mature that people are choosing to improve:
Loss of the skin's collagen and elastin proteins, which results in sagging, loose skin
Loss of fat under the skin, which results in the loss of youthful volume and plumpness
Loss of bone in the face, especially the eye socket and jawbone
What happens
during a liquid facelift?
This procedure takes place right in the comfort of our office. Dr. Giyaur may numb your face with a strong topical anesthetic. She may also apply ice to the face before the procedure to aid in numbing, and also after the procedure to minimize bruising. Dr. Giyaur will inject the appropriate areas of your face with the agreed-upon dermal fillers and/or neurotoxins. The results are visible almost immediately. If more than one treatment is necessary to achieve desirable results, sessions are frequently separated about one month apart so that we're sure to achieve the most natural look without overdoing it.
Downtime and results:
What to expect
Some bruising may occur after a liquid facelift in Brooklyn, however most of the time downtime is very minimal. Dr. Giyaur prefers to use a blunt cannula instead of a needle in some areas of the face (such as the under-eye region) to prevent excessive bruising. Most bruises subside within one week after the procedure. We advise patients to avoid blood thinners, ibuprofen, gingko beloba, vitamin E, and fish oil for a week prior to procedure as these may worsen bruising. Apply ice as needed if you do see a bruise to two. Many people choose a non surgical facelift because dermal fillers require essentially no downtime, are less risky, and carry a much lower price tag than surgery. The results from a non surgical facelift may last up to two years. Dr. Giyaur recommends touch-up treatments twice a year to prolong the results.
Am I a candidate for a Juno Medi-Spa liquid facelift?
If you're interested in having a liquid facelift in the Brooklyn area, it may be the perfect procedure for you. However, a liquid facelift won't ever replace a surgical facelift, and is not the best option for everyone. But for the right candidate, a liquid facelift is a quick, convenient, affordable, and safe way to improve their appearance, look and feel more youthful, appear refreshed and rested, and boost self-image.
Non surgical facelift in Brooklyn
at Juno Medi-Spa
Dr. Giyaur is a big advocate of trying to achieve the most natural look for her patients. Instead of drastically changing your face, the results of a liquid facelift are subtle. If you're looking for a natural yet noticeable lifted appearance and don't want surgery, please contact our patient coordinators to schedule your free consultation for a liquid facelift. Most people who have had this procedure are extremely pleased with the outcome.
Juno Medi-Spa founder Julia Giyaur is a board-certified ophthalmic surgeon, which ensures an enhanced level of study, training, and expertise for medi-spa procedures. She provides personalized service and employs highly trained personnel. The techniques provided at our medi-spa have been fine-tuned, chosen with extreme care. We believe that by enhancing beauty and bringing back a youthful appearance for our patients, we improve their sense of wellbeing — and that is our most important goal.