What are injectables?
Injectables are a class of minimally invasive cosmetic products made up of either naturally occurring components or synthetic chemicals that are carefully injected into the skin in order to improve its appearance. Many patients find injectables to be more preferable to invasive procedures, such as facial plastic surgery, while others opt to use injectables to prevent or postpone age-related changes that may later warrant cosmetic surgery. Finally, there are patients who use injectables to enhance and fine-tune the results they achieved with plastic surgery. If you're ready to learn what our cosmetic injectables in Brooklyn can do for your look, contact us today!
World-class results from three classes of injectable 
Injectables can be broken down into three classes or categories, each with its own uses:
Dermal fillers: Dermal fillers are used to enhance one's facial proportions and to restore age-related facial volume loss. By plumping up and volumizing the skin, dermal fillers also reduce the appearance of unwanted static lines and wrinkles. Most dermal fillers are composed of naturally occurring hyaluronic acid.
Neuromodulators: Neuromodulators like Botox are injected into areas of the face where constant facial motion has contributed to dynamic wrinkles. For instance, as we laugh, frown, speak or express our emotions, our forehead muscles automatically translate these emotions into muscle movement, causing lines to appear on and around our nose, forehead, and eyes. By preventing some of this automatic muscle movement, Botox can correct and prevent these lines from forming.
Special purpose: Special purpose injectables include cosmetic products that are designed to produce a specific result and are delivered through injection.
What do injectables do?
Some of the many cosmetic improvements available with injectables are:
Reducing the appearance of dynamic and static facial lines and wrinkles.
Restoring age-related facial volume loss.
Enhancing the shape and appearance of the lips, cheeks, chin, jawline, and nose.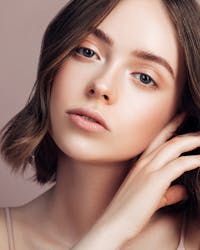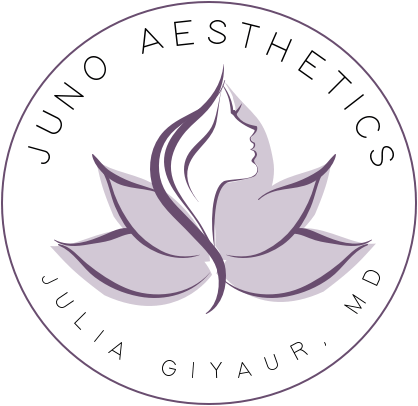 Injectables at Juno Aesthetics
At Juno Aesthetics, we use only injectables that have been approved by the United States Food and Drug Agency (U.S. FDA) as safe and effective for use in people, which automatically excludes direct silicone injections as well as anything else not provenly safe and workable.